So much has happened in these playoffs and we're only about a quarter of the way in. There's been a lot to digest, so to recap, here are the eight craziest moments so far:
8. THE LAKERS DROP GAME 1, TWICE
Damian Lillard said months ago that he wanted to match up with the Lakers in the playoffs, and he got his wish.
Lillard came into the postseason breathing fire, averaging 37.6 points in bubble regular season play and 44.2 points over his final five regular season games. He wanted smoke with everyone, and still had a little left for the Lakers, getting all kinds of buckets in a statement Game 1 win.
LA ultimately disposed of Portland in five games but ran into further problems in Game 1 of the second round, when they suffered a 112-97 loss to the Rockets.
James Harden looked like a man ready to put his shaky postseason track record behind him as he scored a game-high 36 points on 60 percent shooting.
But this was much more than the Harden show; Houston's other major contributors were excellent too. Russell Westbrook played with a freakish and quite frankly terrifying level of intensity, adding 24 points, nine rebounds and six assists in the process.
Even more importantly, Eric Gordon and PJ Tucker did incredible jobs defending LeBron James (20 points) and Anthony Davis (25 points) respectively. Gordon somehow had James settling for jumpers and Tucker expertly limited Davis despite a huge height disadvantage.
The Lakers are still the heavy favourites, but the Rockets have at least shown they mean business.
 7. LU DORT AND JAMES HARDEN SWITCH BODIES
Just when you thought there was nothing in this insane NBA universe that could surprise you anymore, the Rockets and Thunder played a Game 7 in which James Harden couldn't buy a bucket and Lu Dort couldn't miss.
Harden shot 4-15 from the field and 1-9 from behind the arc, while Dort – whose hot hand was engulfed in flames by night's end – finished with a game-high 30 points after dropping six long-range bombs out of absolutely nowhere. Anyone who put money on Dort scoring anywhere near 30 points is a very brave – and very rich – man indeed.
And if all this wasn't enough, Harden finished the night by putting his crippling struggles aside to make the game-winning play on the defensive end.
Harden's block was a brilliant and likely franchise-altering play. It was also one of the best of his career.
6. THE JAZZ BLOW A 3-1 LEAD
There just aren't any words that sum up this year's Utah Jazz experience better than the pain etched across Donovan Mitchell's face after Game 7.
5. OG ANUNOBY'S MIRACULOUS GAME-WINNER
Very rarely does so much happen in 0.5 seconds. There's a whole lot to admire here:
– Kyle Lowry's poise when Nick Nurse's play to get a shot for Pascal Siakam or Fred VanVleet didn't work out, throwing a centimetre-perfect pass over the tallest man in the NBA to the far side of the court
– OG Anunoby's ability to catch and shoot in half a second, draining the shot despite having to drastically speed up his release
– Lowry's reaction in the aftermath
– Anunoby's stone-faced expression and walk-off after draining the winner, which he later said was because he "doesn't shoot trying to miss"
Kyle Lowry looked directly at the camera & smiled like a '90s sitcom intro pic.twitter.com/FHb18qHPAo

— Christopher Hudspeth (@CEHudspeth) September 4, 2020
 4. LUKA DONCIC DROPS 43/17/13 AND THE GAME-WINNER
Well, this is one way to respond to being without your co-star while down 2-1 against two of the best defenders in modern NBA history, not to mention being called a pussy ass white boy.
3. THE BUCKS DIG A 3-0 HOLE/THEIR OWN GRAVE
It would've taken a bold man to predict the first-seeded Bucks completely imploding in the second round, but here were are.
The Heat have walled off Giannis with incredible effectiveness and their overall team defence has been nothing short of outstanding. Combine that with Jimmy Butler's alpha male performances, as well as excellent and fearless contributions across the board and brilliant coaching, and Miami is suddenly the most likely Eastern Conference team to make The Finals.
It was quite shocking to see the Bucks go down 3-0. Conventional wisdom suggested the best team all year would do everything possible to avoid such a disastrous situation.
Backs-against-the-wall scenarios usually bring the best out of elite squads.
Instead, Milwaukee shat the bed again, scoring just one point in the final 4:40 of Game 3. Jimmy Butler, by comparison, scored 17 points in the fourth quarter alone.
 2. JAMAL MURRAY AND DONOVAN MITCHELL DROP 50, TWICE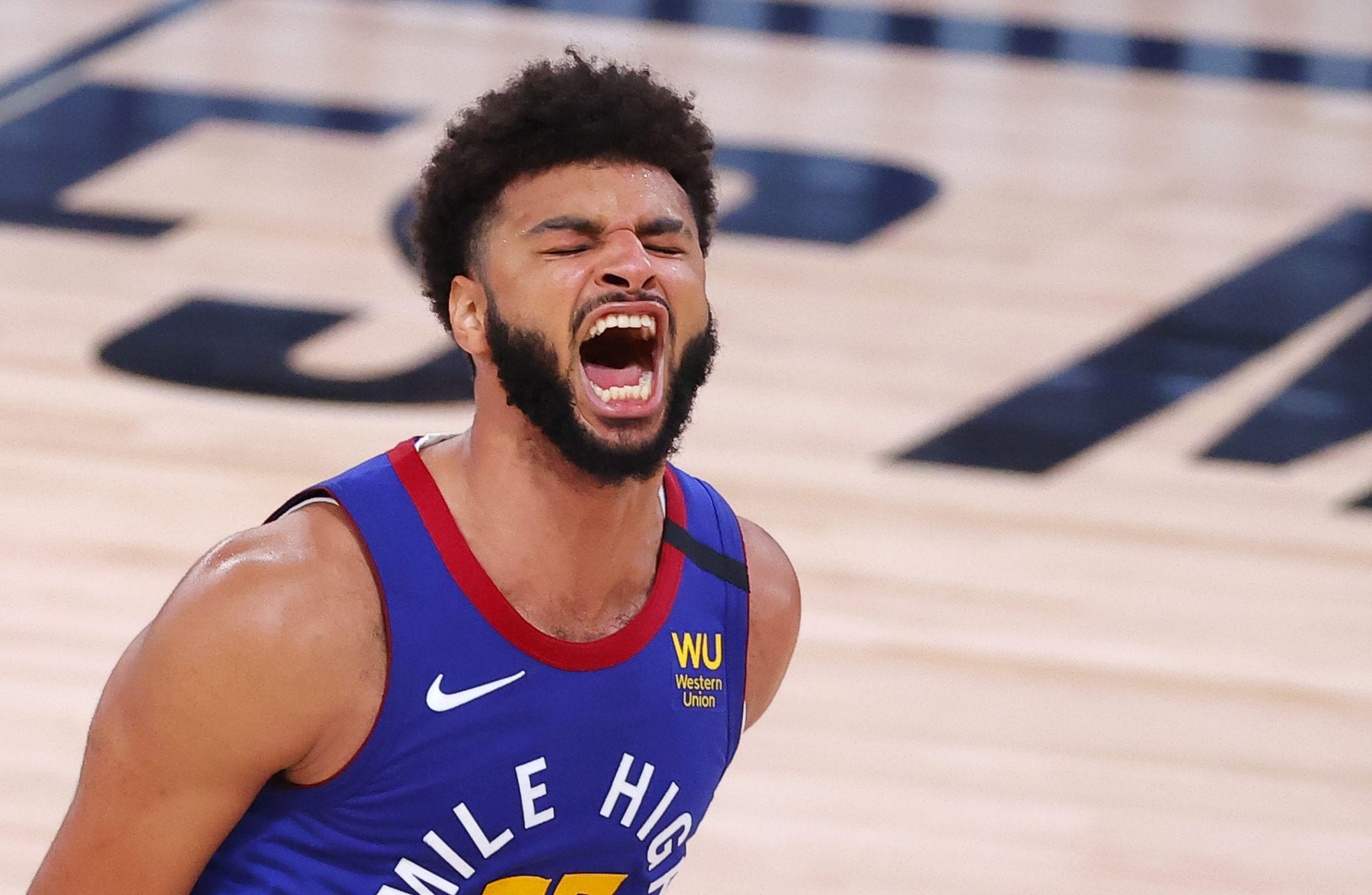 Any doubts that Donovan Mitchell and Jamal Murray spent every waking moment of the hiatus working on their game was erased in this series. Mitchell's numbers were especially absurd, with averages of 36.3 points on 52.9 field goal shooting and 51.6 percent from beyond the arc.
Crazier still, both players scored 50+ twice.  That's four 50-point performances in seven games. Michael Jordan and Allen Iverson are the only other players in NBA history with multiple 50 point games in a playoff series. Other than Wilt Chamberlain, no one else has even had two 50-point games across an entire playoff run.
And going by Game Score, which calculates the overall value of a single-game performance, Mitchell and Murray had two of the five best playoff performances of the past 20 years.
And they did it in the same series!
Here's the list:
1. Vince Carter (2001) – 50 pts, 7 ast, 6 reb, 4 blk, 19-29 FG, 9-13 3P, 3-3 FT
2. Dirk Nowitzki (2011) – 48 pts, 6 reb, 4 ast, 4 blk, 12-15 FG, 24-24 FT
3. Allen Iverson (2001) – 52 pts, 7 ast, 2 reb, 4 stl, 21-32 FG, 8-14 3P, 2-2 FT
4. Jamal Murray (2020) – 50 pts, 11 reb, 7 ast, 19-31 FG, 9-15 3P, 5-5 FT
5. Donovan Mitchell (2020) – 57 pts, 9 reb, 7 ast, 1 stl, 19-33 FG, 6-15 3P, 13-13 FT
Madness. Absolute madness.
1. THE BOYCOTT
The Bucks refusing to play in the wake of Jacob Blake's shooting was one of the boldest social justice stances ever taken by a group of athletes, and the ripple effect spread far and wide.
Players from all four major sports joined the protest in different ways, the NBA's most influential player went against 28 of the league's 30 teams and voted to scrap the season, Kenny Smith walked off the set of Inside The NBA, and everyone went to bed that night not knowing whether the season would ever resume.
The players ultimately returned to play after three days away from the court, but made it clear they would sit out once again if team owners didn't join them in pushing for meaningful change.