PUMA has announced the launch of J. Cole's first signature basketball sneaker, the RS-Dreamer.
Cole was "was intimately involved" in the project, "from inspiration to design", according to the global sports brand.
"When said out loud, all the best dreams sound crazy," Cole said of the shoe's 'DREAMER' logo.
"Dreamer was created with the belief that, still, we must follow ours, no matter how unachievable they may seem to others."
The announcement comes after PUMA and Cole announced their official partnership with a TV spot that aired during All-Star Weekend.
The RS-Dreamer will be worn on the court by PUMA Hoops athletes and has already been sported by the likes of Kyle Kuzma and DeAndre Ayton.
PUMA says this first signature basketball shoe is intended to be worn both on and off the court – equipped with the latest technology while having a "fashion-forward" and "disruptive" design.
Along with the logo, the shoe also features a sleek black upper, a new cord lacing system and colourful detailing around the midsole with clashing yellow, red, purple and mint accents.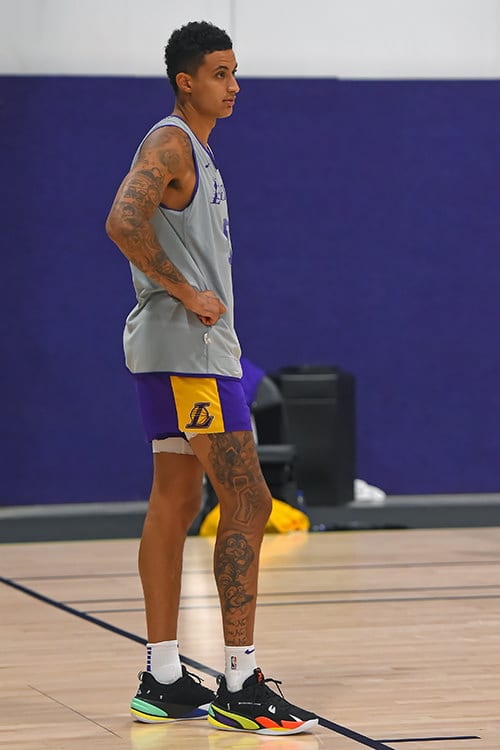 The technology in the shoe comes from repurposed signature cushioning from PUMA's RS line that makes a speedy, responsive on-court feel.
It is combined with a basketball-specific ProFoam and a versatile traction pattern for all-surface grip.
"Over the years, basketball shoes have progressed greatly in their level of technology and comfort," Cole said. "But [they] have strayed too far away from designs stylish enough for cultural relevancy.
"The Dreamer hopes to change that reality. The highest level of on-court performance meets the highest level of aesthetic design for daily wear. Once again, you can hoop in the same shoes you wore outside."