Houston Rockets guard Austin Rivers took to social media to weigh in on the Black Lives Matter and how playing NBA games can help the movement.
Rivers' post was in response to a recent call led by Kyrie Irving that included 80 NBA  and WNBA players according to reports.
On the call, multiple players expressed concerns about the league's decision to move forward, with some not wanting to play.
"I don't support going to Orlando," Irving said on the call, according to The Athletic.
"I'm not with the systematic racism and the bulls—."
Rivers took to his Instagram page with a lengthy post stating that he felt the opposite of Irving.
Rivers contended that playing will give younger fans hope and also that he thinks a large majority of the players in the league will need paychecks.
"I love Kyrie's passion towards helping this movement," Rivers wrote.
"It's admirable and inspiring. I'm with it … but not at the cost of the whole NBA and players' careers. We can do both. We can play and we can help change the way black lives are lived. I think we have [to]! But canceling and boycotting [a] return doesn't do that in my opinion. Guys want to play and provide and help change!!!!"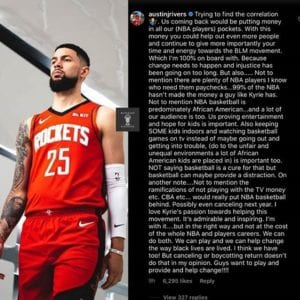 Rivers also spoke on the long term effects of the season not resuming this year and how that could be a factor for next season as well with the loss of revenue.
With a topic of such magnitude, many players are voicing their opinions all over social media
The Rockets will travel to Orlando with a 40-24 record, tied with the OKC Thunder for the fifth seed in the Western Conference.