It's only in a team's darkest hour that you discover its true character, and the Sydney Kings' darkest hour arrived on Monday night.
In Game 2 of their semi-final series against Melbourne United, the Kings endured one the most painful experiences imaginable, right up there with stepping on a piece of Lego.
For this once-dominant but recently tortured franchise to earn its first grand final berth in 12 years, all they had to do was win this game.
Instead, they were completely and utterly humiliated by their greatest rival.
At one point, a scolding hot Melbourne rattled off 38 unanswered points, fatally crushing the Kings in the blink of an eye.
When things were at their worst, Sydney trailed by an inconceivable 58 points, as Melbourne kept their foot to the floor – and on the Kings' throat – for the rest of the night.
Rarely had this trusty old Simpsons meme been more appropriate.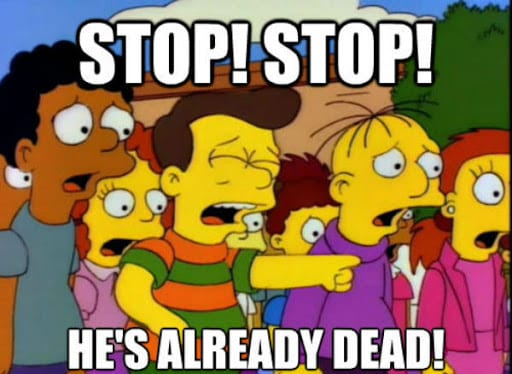 It certainly didn't help that Kings coach Will Weaver failed to make any of the necessary adjustments that night.
This was a man who had done a masterful job throughout the regular season and is regarded as one of the sharpest basketball minds in the country.
Sydney, which had been the clear-cut best team all season, appeared to be bundling up their six months of exceptional handiwork and pissing it up against the wall like an NRL player on a night out.
It's hard to overstate how disastrous the loss was.
The fallout was sure to be immense, with a social media sh*t storm brewing as fans questioned why they should invest their time and energy all season when their passion wasn't being mirrored by their team in its moment of truth.
The players put on a brave face during the aftermath, but behind closed doors, they were hurting.
Angry, and hurting.
Weaver didn't move halfway around the world to be humiliated.
Andrew Bogut didn't return home to be humiliated.
Paul Smith, a proud businessman who isn't accustomed to failure, didn't invest millions of dollars in the team to be humiliated.
It simply couldn't end like this.
And while the pain that comes with such an awful loss can last weeks, the Kings had just 72 hours to regroup and save their season, a season which was meant to be theirs but had instead been placed on life support.
However, when the decider rolled around on a drizzly Thursday night in the Harbour City, the Kings were ready.
Every key Sydney player regrouped, and they exorcised their demons together.
Andrew Bogut dug deep and found some fuel in a tank that many suspected to be empty, contributing 10 points and eight rebounds on perfect shooting and even leading the team in scoring at one stage.
Casper Ware, who had been plagued by poor three-point shooting all season, bounced back from a horror first two games with a stirring performance highlighted by three 3s in two and a half minutes during the third quarter, exacting ultimate revenge against his old team and a club which had absolutely terrorised him across the first two instalments of the series.
He's cooking now!@CWARE22 with three 3s in less than three minutes!#NBLFinals #NBL20 pic.twitter.com/BS6pPbj2Wk

— Sydney Kings (@SydneyKings) March 5, 2020
Jea'Sean Tate's 20 points, combined with his characteristic and infectious hustle, breathed life back into his previously demoralised teammates.
Despite a poor shooting night, Brad Newley brought the grit and passion his team so desperately needed after Weaver inserted him into the starting line-up.
Kevin Lisch conjured up some of his old magic when it mattered, blowing the roof off with one of the biggest shots of the game.
CLUTCH KEV!#NBLFinals #NBL20 pic.twitter.com/SjKQeH1rJN

— Sydney Kings (@SydneyKings) March 5, 2020
Xavier Cooks volunteered to start on the bench and came good on his promise to bring the heat with the second unit.
Didi Louzada proved that, despite being just 20 years old, he was about as scared of the big moments as Kobe Bryant was of a Matt Barnes ball-fake.
And yes, the Kings were the beneficiaries of quite a few favourable calls.
But that didn't change the fact that Sydney rose to the occasion at both ends of the floor and buried Melbourne with a series of clutch buckets.
And their ability to do so after being emotionally broken just a few nights earlier ensured they followed the most disastrous moment of the season with a remarkable rebound from near unprecedented adversity.
Professional sport always comes with its emotional rollercoasters.
And much to the displeasure of Paul Smith's cardiologist, the Kings rode their way to both extremes within the space of days.
For more Basketball Forever content, follow @bballforeverfb and @nickjungfer.