Basketball journalists would all agree – Spurs coach Gregg Popovich is a brilliant coach.
But he sure makes them earn their quotes. Here's some wonderfully cutting retorts to reporters from the past week, who just trying to do their job and get a story up. Before you read them make sure to imagine you;re a reporter and this man is looking at you. Deadpan.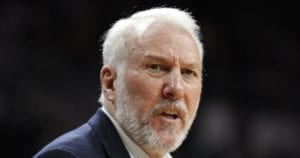 (On there being more intensity tonight…)
"I think that would be a logical thought. Game day would probably develop more energy than practice."
(On the feeling of not having Tim Duncan, Manu Ginobili or Tony Parker in the lineup…)
"It's different because they are not there. There are different people, so it's a different situation. My personal feelings are not important."
I thought LA [LaMarcus Aldridge] was a horse. He couldn't make a shot, but he was a horse on the boards and on defense. [He] still moved the ball around when they double-teamed him. He did a great job in that regard."
On guard DeMar DeRozan's comfort level to this point…)
"Well, this is his third game with us. I'm just going to guess that with each game he'll get a little bit more comfortable. That would be the logical thing to think."
Please don't ever quit Popp. Pretty Please.
For more Basketball Forever content, follow @bballforeverfb and @JeremyHartcher