Just in case you weren't aware, the moment Summer League begins, that's everyone's queue to wildly overreact to the fortunes or misfortunes of the prospects competing.
This year, we thought we'd join in with some overreactions of our own.
Atlanta is surely regretting trading for Trae Young already
Trae Young has spent much of Summer League behind both the three-point line and the eight ball.
Despite showing Steph Curry-esque tendencies in college, Young is playing like the Monstars paid him a visit in the middle of the night ahead of game one.
The former Oklahoma star is averaging 11.8 points on 16-66 shooting (24 percent!) and some of those misses haven't even been close.
https://twitter.com/TheRenderNBA/status/1013924900854222849
To make matters worse, Young rounded out that horror stretch with a right quad contusion on Sunday.
Not a good start, Atlanta.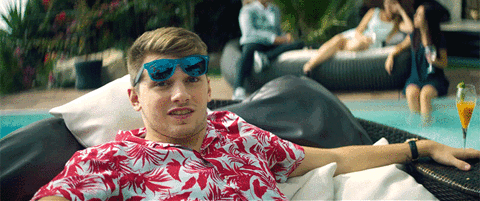 Kevin Knox is the real deal
Run an eye over the following list of players:
Michael Sweetney
Channing Frye
Danilo Gallinari
Jordan Hill
Kristaps Porzingis
Frank Ntilikina
Those guys were the Knicks' past six top 10 picks heading into this year's draft.
So from their previous six cracks at the top 10, they'd managed just one above replacement level player (I'm lumping Gallinari in with the others because you can't be above replacement level in a suit).
But if Summer League is anything to go by (and remember, it isn't), Porzingis could finally have a legit running mate.
Kentucky wing Kevin Knox has burst out of the gates in Vegas, putting up 22 and 8 in 30 minutes against Atlanta on Saturday and 19 and 5 against Utah on Sunday.
Kevin Knox gets his first bucket in style in Vegas! pic.twitter.com/ttQEelaFlf

— NBA (@NBA) July 7, 2018
The 18-year-old was exceptional in transition and completely outclassed his opponents both athletically and aesthetically, spending a good portion of his time above the rim.
The main knock on Knox's first two performances was his three-point shooting, going a combined 3-14 from deep across his first two games.
But when he figures that out, he might just be something special.
Markelle Fultz is the ultimate GIF generator / meme lord
MARKELLE pic.twitter.com/rS2EoEwMVc

— Matt Ellentuck (@mellentuck) July 7, 2018
Classic Markelle in his natural habitat, on the sidelines.
Furkan Korkmaz is about as unpredictable as Kim Jong-un
And judging by the way he shot the ball in his opening game, he's almost as dangerous.
Furkan Korkmaz goes off for 40 for the @Sixers in Friday's @NBASummerLeague action! #NBASummer pic.twitter.com/tQqtOkGE8p

— NBA (@NBA) July 7, 2018
But no one can make any sense of Korkmaz and it's not because Turkish is his first language.
After dropping 40 points on 8-14 three-point shooting on Friday, the man had four points on 0-7 from deep the following day.
Two games in and Korkmaz has been as hot and cold as taking a shower when your housemate flushes the toilet.
No one will ever score on Wendell Carter again
Wednell Carter was a defensive monster in his Summer League debut on Saturday, finishing with 16 points, nine rebounds and five blocks.
And he displayed plenty of defensive prowess beyond his five spectacular blocks, showing great instincts off the ball and getting to all the right spots.
Oh, and he also hit a couple of threes.
The Bulls might just have nailed the number seven pick for the second year in a row.
Someone needs to sign this man right now
They say it's the name on the front of the jersey, not the back, that truly matters.
But I think I'm willing to make an exception for this dude.
Sign the man up, Golden State, even if it's just to watch Charles Barkley trying to pronounce his name.
For more Basketball Forever content, follow @bballforeverfb and @nickjungfer.