With tempers giving way to regret and exhaustion as the Australian Boomers touched down in Melbourne on Wednesday morning, Daniel Kickert took a moment to apologise for escalating Monday night's now infamous brawl in the Philippines.
Kickert pushed tensions beyond boiling point when he floored Filipino opponent Roger Ray Pogoy in retaliation to a vicious hit on Goulding.
From there it was on for young and old.
"It's a regrettable situation," Kickert told reporters at Melbourne Airport.
"I was put in a position where I made an action that was unfortunate. I think I overstepped a little bit in my response to the escalation in the game. I'm going to let FIBA do everything they need to do and come to the answers they see fit."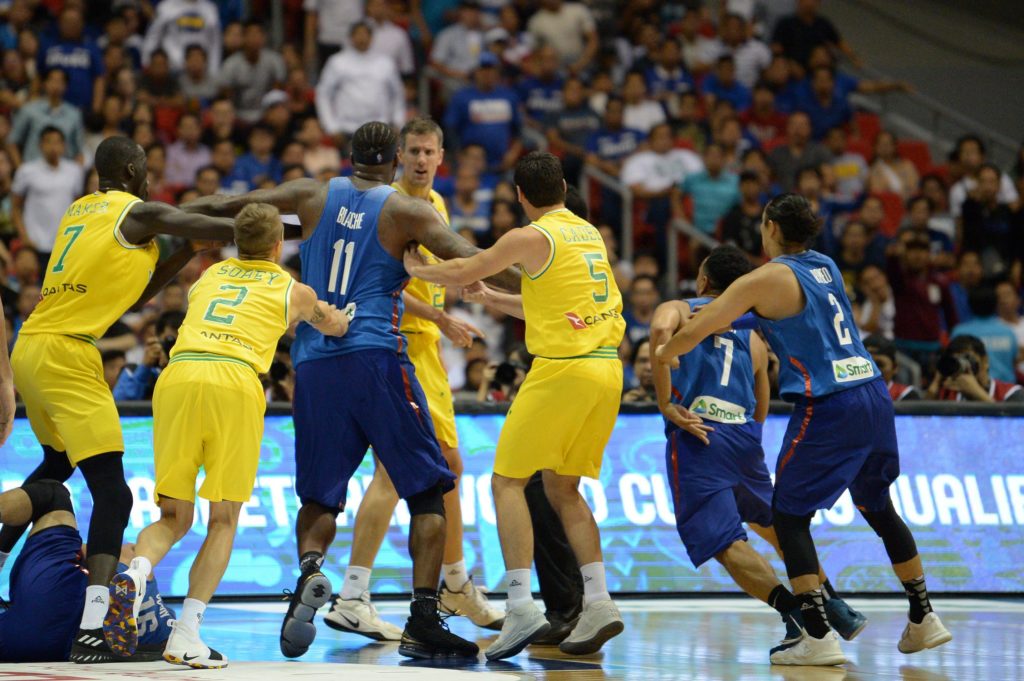 Meanwhile, Australian assistant coach Luc Longley was still reeling when he addressed the media, furiously demanding answers from Philippines head coach Chot Reyes.
Longley stated Reyes was responsible for what he believed to be a thug mentality.
"I've never seen anything like that, not even on YouTube," Longley said. "I do believe their coach Chot Reyes incited them to come out and thug us. There's video evidence of that. Then he substituted a thug out there, who took three or four cheap swings at 'Bubbles' (Goulding).
"This is out of the party line but I'm most disturbed with their head coach. I think he was embarrassed by the way his team was playing. I think he was embarrassed by the shape they were in. I think he was embarrassed by how they fought.
"He wouldn't look me in the eye at the end of the game when I shook his hand. I think he was embarrassed and I think that's where a lot of it came from. If you listen to his diatribe after the game I think it verifies it. I'm upset with him more than anybody.
"To let his team take gangster selfies on the baseline after something like that, that shows a total lack of control and respect."
Longley's comments came after Reyes placed the blame squarely on the Australians, and Kickert in particular.
"It's absolutely unacceptable but the reality is Kickert was hitting our players during the warmups," Reyes told reporters following the incident. "He hit Bryan Cruz, he hit Matthew Wright, he hit Pogoy and he hit Calvin Abueva during the warmups.
"The foul of Pogoy on Goulding was called a foul, an offensive foul. It was a basketball play but he was the one who came in and then he hit Pogoy for the fifth time. You can't expect to do that to a team five times and not expect to retaliate so that's what happened unfortunately."
The animosity started in warmups…. pic.twitter.com/asl0neZwrA

— FOX Basketball (@FoxBasketball) July 3, 2018
While there is no evidence to suggest Kickert made contact with that many players during warmups, footage has surfaced (via Fox Sports) of the big man turning to shove one Filipino player after another attempted to trip him.
It was vision which, combined with the Australian camp removing advertising decals from the court pregame without permission, erased any doubt that tensions had been simmering since well before tip-off.
And with the Australians reportedly changing hotels later that night, it appears they may have lingered until well after.
For more Basketball Forever content, follow @bballforeverfb and @nickjungfer.