Bucks star Giannis Antetokounmpo sees all the star players heading to big markets and insists he would never do the same.
In the wake of LeBron James signing with the Lakers, Giannis told The Herd's Colin Cowherd on Monday that he had unfinished business in Milwaukee.
"My goal is to win in Milwaukee, bring a Championship to the city… I would never leave for LA." — @Giannis_An34 pic.twitter.com/IDwlih5c44

— Herd w/Colin Cowherd (@TheHerd) July 2, 2018
"To be honest with you, no," Antetokounmpo said when asked if he would ever leave the Buckets if LA came calling.
"No way. I like finishing the stuff that I have with Milwaukee. My goal is to win in Milwaukee, bring a championship in the city, and make the team a lot better. So I would never leave for L.A."
I got loyalty inside my DNA 🦌

— Giannis Antetokounmpo (@Giannis_An34) July 7, 2017
You'll have to forgive Bucks fans if they wait to see it before they believe it.
Who could forget this now infamous tweet from infamous tweeter Kevin Durant.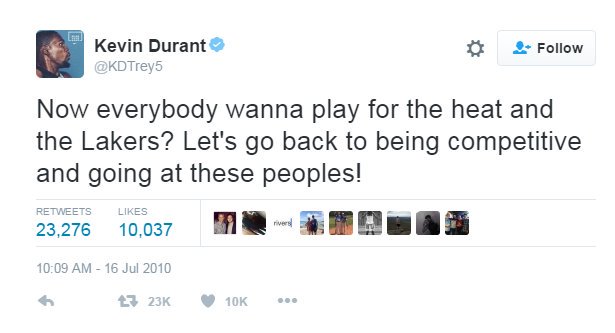 Additionally, many long-time Bucks fans have had a significant 'small market complex' ever since Kareem Abdul-Jabbar left their team to join the Lakers in 1975.
As for whether Antetokounmpo will live up to his promise of sticking it out in Milwaukee, only time will tell.
Giannis is under contract in Milwaukee until the end of the 2020-21 season.
For more Basketball Forever content, follow @bballforeverfb and @nickjungfer.