Australia's World Cup qualifying match against the Philippines was abandoned on Monday night following one of the ugliest fights in basketball history.
It began when Aussie Chris Goulding was thrown to the ground off the ball with Australia leading 79-48 midway through the third quarter, before teammate Daniel Kickert added fuel to the fire with a wild elbow.
That instantly led to a frenzied all-in fight with chaos unfolding everywhere.
In what was quite possibly the most dangerous and sickening moment of the evening, Goulding was pinned to the floor while being punched by multiple Filipino players.
Meanwhile, Nathan Sobey, who at one point had a chair thrown at him, was struck by a non-playing member of the Phillipines camp.
Wild scenes during the #Boomers game. Photo of a sickening punch to Nathan Sobey by a Phillipines offical during the melee. Disgusting. pic.twitter.com/JQoDwNCFIJ

— Jase Kemp (@jasetaylorkemp) July 2, 2018
After co-starring in one of the darkest days for the sport, Filipino players proceeded to pose for selfies in what had become truly bizarre scenes.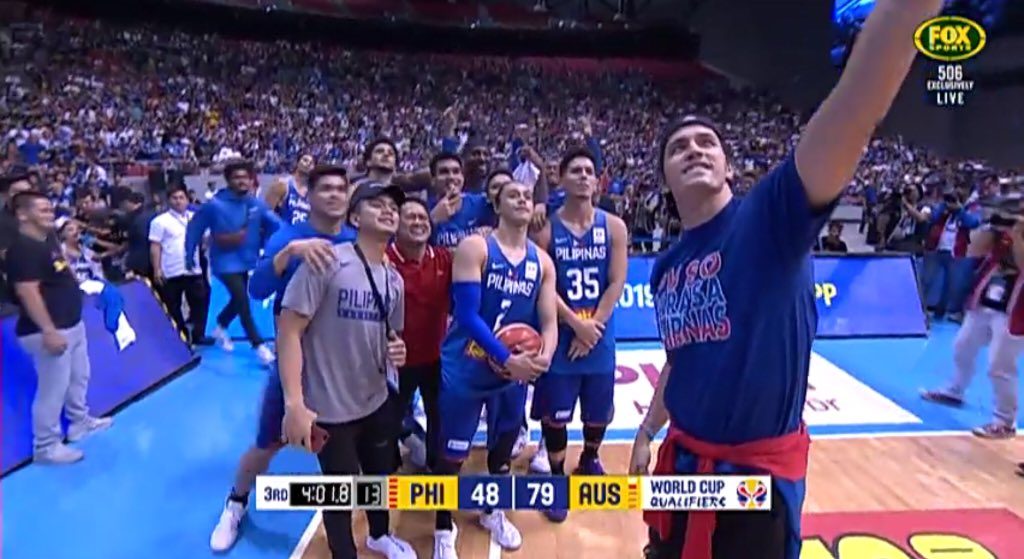 The crowd made their presence felt when they started throwing bottles at Australian players and a mortified president of basketball in the Philippines eventually took to the court in an attempt to calm everyone down.
And while calling the game off immediately seemed like the only option, play eventually resumed, but with just three Filipino players on the floor after nine had already been ejected.
MAN WTF!!! Disgusting

— Andrew Bogut (@andrewbogut) July 2, 2018
CALL THE GAME!

— Andrew Bogut (@andrewbogut) July 2, 2018
Those remaining in the game for the Phillipines then deliberately fouled to ensure they would have to leave the game, subsequently forcing an end to the whole ordeal.
Australia's Daniel Kickert, Chris Goulding, Nathan Sobey and Thon Maker were also ejected.
For more Basketball Forever content, follow @bballforeverfb and @nickjungfer.